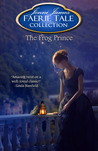 The Frog Prince by Jenni James
This was a cute retelling of The Frog Prince. It's a short piece, only took me around two hours to read, but that's not necessarily a bad thing as the story fulfills all the promises it makes in that space. In this version of The Frog Prince author Jenni James takes the time to create a more satisfying reason for the Prince to be a frog and why he chose the princess he did to befriend. The princess is not as extreme in her reactions, she doesn't fling the frog or break her promises on purpose, and the building romance is cute, including the families and the value of truly seeing someone for who they are.
I had some complaints about the language which is often stilted in the dialog and some of the themes are repeated to the point they start to grate, but over all a very cute little read appropriate for tweens and up.